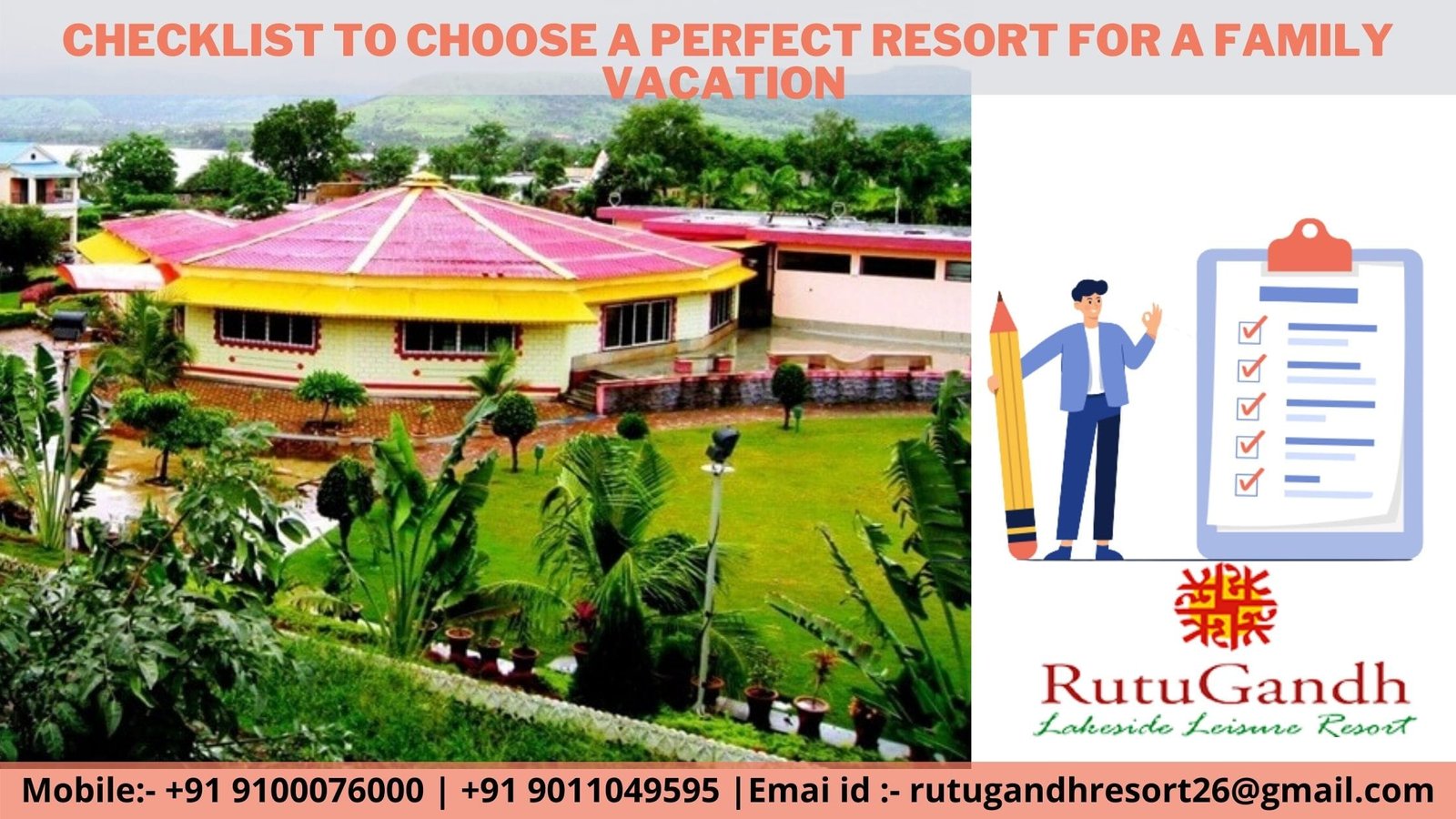 Finding the perfect place for your family vacation can be fun. However, choosing other things like travel, service, etc. will not be as much fun. Not only the destination but also the place where you live should be perfect. Here are some points to keep in mind to plan a hassle-free Family Vacation at a resort or hotel.
Here are some tips on what you should consider before choosing a resort for your family vacation.
Location:-  
The first thing that comes to mind whining Planning a Family trip is places/locations. In the family, there are people of all ages, elderly, young and children. So you have to choose your location accordingly. So every member of the family can enjoy it. See below Point While booking the Location.
Find a resort that is close to tourist destinations or near the train station or airport as family members get tired of constant travel, also staying close to tourist destinations will save the time to go to interesting places.
Amenities:–
Check the resort you are considering has all the amenities and activities you need. If you're going in your vehicle, then make sure there are parking places available. Also, while vacations are meant for relaxing, so see there is any lake or surrounded by nature so you can enjoy the view and relax from day to day working hassle.
Budget-friendly:-
With inflation and constant price fluctuations, the tariff you see online of the resort. You are considering may increase as you go on that vacation. So pre-book Your Holidays, so you don't have to pay any extra costs. And Check for Discount or offer as going on right now or ask for it.
Activities:–
To relax and enjoy with your family, make sure they have activities for all ages in the group. You need to keep this in mind when dealing with a resort there are enough activities for kids. If there are no activities for the children they get bored. Because if the kids are happy then mum and dad are too.
See Below activities for kids:-
 Swimming pools:-
Family-focused resorts offer many pools, water slides, and water sports – and at best there are only adult pools. Find lots of water sports resorts for kids … it keeps them happy for hours and they can get other kids to play too.
Kids Club:-
The Kids Club will be your savior when it rains or you want to be alone for a while. Most resorts these days have kids' clubs. Were various activities done for kids?
Outdoor activities for all age Group:-
While it is important to do activities to keep young children busy at the resort, there should also be something that even adults in the family can enjoy. To relax and Enjoy with family make sure they have swimming pools, Big play area, A Garden, indoor games like- Puzzle, chess, carom and outdoor games like- cricket, badminton, etc.  Also, at night they have a bonfire and fun activity, and many more activities.
So every member of the family can enjoy the different activity as per their age.
View:-
Stimulating an amazing view outside your resort is something everyone wants in their vacation. To choose a resort with scenic views, go through its outdoor pictures. They give you an idea of the area around it, whether it's a concrete forest or Lake or a beautiful spread of nature.
FOOD:-
People who go on vacation mainly do not get proper food or meals. And pure veg food resorts are hard to find. So, wheeling the booking resort, you should see what meals are served to you. And if there are any special requirements regarding meals, you should tell them in advance. So they can arrange accordingly. Also, ask if they offer meals for the children. If it is not, you can arrange for the children to ask the resort management to arrange it in advance.
Payment:-
Before booking your resort or making any payment, you must know the terms and conditions of payment, if for some reason you cannot go there also know the refund policy. How much you need to pay in advance to confirm the booking. Also, see the cancellation policy. If you cancel a trip due to a problem and also know the check-in and check-out times and What to do if you check out late.
Conclusion:-
Vacations are considered a time of relaxation, unwinding, bonding, and breaking the monotony of regular life. They have been planned with a lot of effort.
However, family vacations do happen frequently, and you should make the most of them. Choose the next possible option to enjoy a vacation search without difficulty for renting a resort at your destination and depending on the technical features and the amount of rent. To be able to book the best-rated resort, try to plan your vacation before the actual travel dates.
We've listed some of the indivisible factors such as location, amenities, and views that must be considered when choosing a resort for your family vacation. We wish you an enjoyable vacation with your family.
If you're looking for family vacations near Pune, Then you can consider Rutugandh Resort on your list. to know about tariff Click Here